What is Project Management?
What we do
---
Project Management is the management process of development of real estate investment, by specialised professionals, from the initial stages until the objectives of the property developer have been successfully achieved.
This process can be divided into three main stages:
- Planning
- Execution
- Management


An experienced management team will aid the property developer in each or all of the above mentioned stages in order:fecha_publicacion|ordering:asc to achieve the established objectives.

Being able to leave the whole process in the hands of a specialised team will mean savings in investment and time for the developer, allowing them to concentrate fully on the key aspects of their business.


Each one of these three phases is the result of various management actions:
Planning:


Defining the project
Profitability
Finding de land or property
Available capital
Financing
Financial viability analysis
Execution:


Finance management
Purchasing land or property
Preparing the projects
Commercialisation and sale of product
Licences and permits
Planning and contracting
Carrying out works, monitoring costs, progress and quality
Handing over of finished works
Management:


Handing over finished works to buyers
Implantation, maintenance and management
of occupancy costs
Differences between the
traditional working scheme and with a Project Manager

Traditional working scheme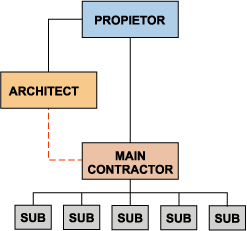 Project Manager Scheme